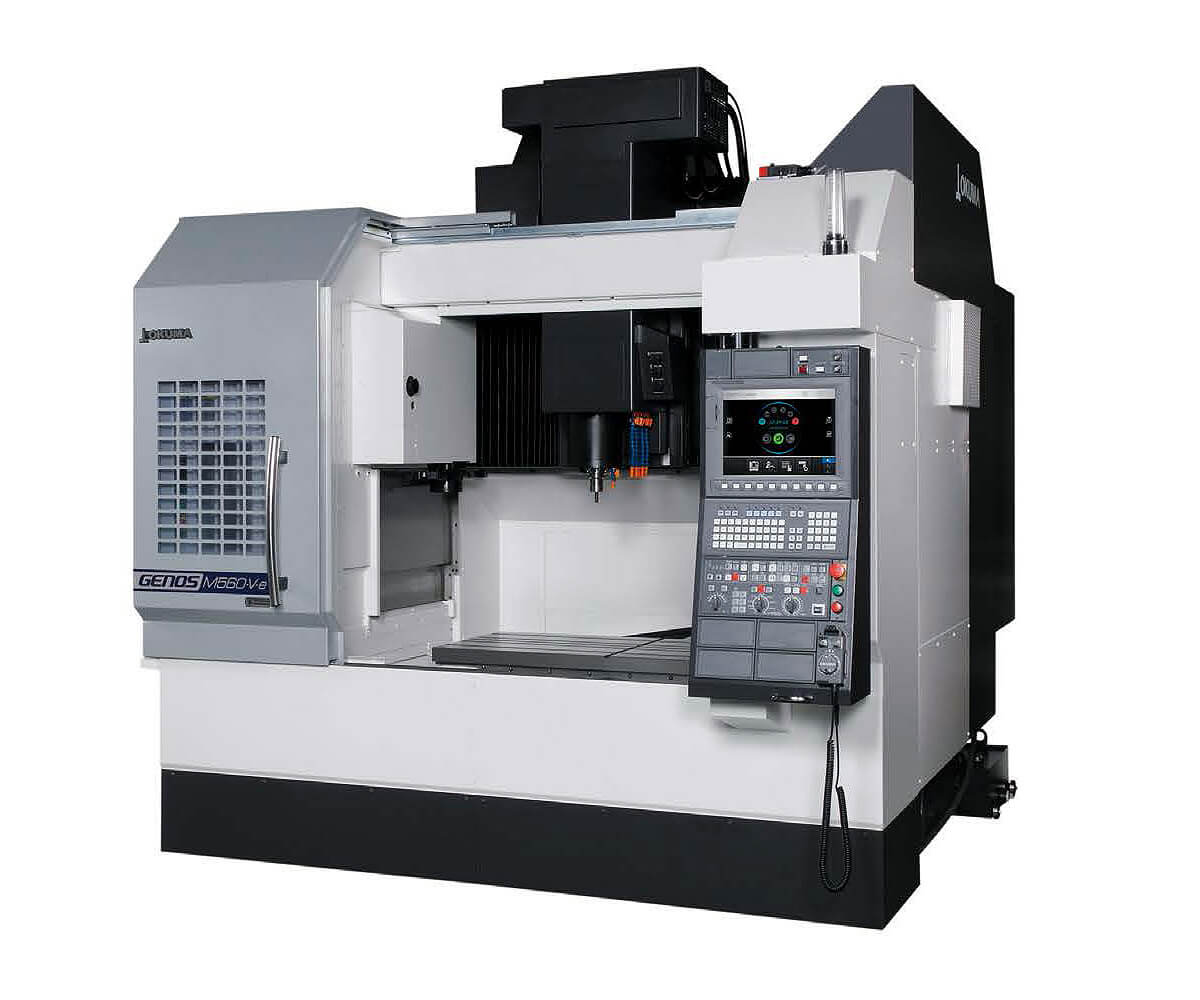 Okuma GENOS 560-V-E is an advanced machining center
CNC three-axis machining is carried out by moving the tool in the horizontal, vertical and longitudinal planes. Applications in various industries such as aerospace, automotive, electronics and medical. It is used to produce precision parts, prototypes, injection molds and finished goods
Table size: 560 x 1300 mm.
Spindle speed: 15,000 rpm.
Spindle motor power: 22 kW.

Tool storage capacity: 32 pieces.
Axis crossings:
X-axis travel: 1050 mm
Y-axis travel: 560 mm
Z-axis travel: 460 mm
Table load capacity : 900 kg
Worked materials:
Aluminum
Stainless steel
Carbon steel
Brass
Copper
Titan
Inconel
And many other materials
The unit features flexibility with its 32-piece tool magazine and excellent cutting performance with its 15K CAT40 BIG-PLUS® spindle. It also stands out for its high rigidity thanks to its double-column design.
The GENOS 560-V-E offers exceptional thermal stability, allowing it to process a wide variety of materials, from titanium to aluminum, without compromising the quality of the finish. Advanced features such as the Hi-Cut Pro controller ensure precise and fast cutting, while innovative design features such as the symmetrical thermal structure minimize thermal deformation, increasing the overall accuracy of the machine.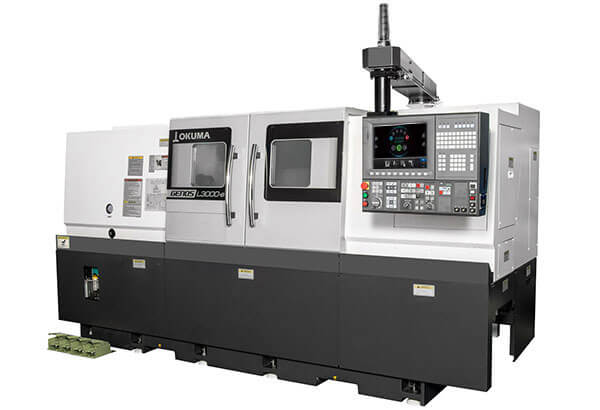 Okuma GENOS l3000-e is an Advanced Y-axis lathe.
CNC lathes with a Y-axis for milling offer expanded machining capabilities compared to traditional lathes. With the Y-axis adding vertical motion to the standard X-axis (horizontal motion) and Z-axis (longitudinal motion) movements, CNC lathes with the Y-axis are able to perform precision milling operations to create intricate shapes and parts.
Machining with a Y-axis CNC lathe allows you to mill grooves, holes, wires, as well as perform other operations that require vertical movement of the tool. This allows you to create different types of notches, emboss, mill shapes with non-standard angles and perform other advanced milling operations on the workpiece.
Over-bed clearance: 520 mm
Maximum turning diameter 390 mm
Maximum turning length 950

mm

Maximum spindle load 650 kg
Spindle motor power: 22 kW
Spindle speed: 38 ~ 3800 rpm
Rotary tools:
Tool rotation range: 45 ~ 6000 rpm
Maximum motor power of driven tools: 5.5 kW
Konik:
Worked materials:
Aluminum
Stainless steel
Carbon steel
Brass
Copper
Titan
Inconel
And many other materials
The Okuma GENOS L3000-e CNC lathe is an advanced machine that uses a built-in spindle for accurate CNC machining. A more powerful lathe, this lathe excels at machining many unusual materials. The built-in spindle drive enhances machining capabilities, while the robust guideways enable intensive cutting. This highly advanced lathe offers a variety of functions, such as high-speed milling and use of the Y-axis .The use of TAS-C thermoactive stabilizer technology, allows it to automatically compensate for temperature effects and maintain tight tolerances.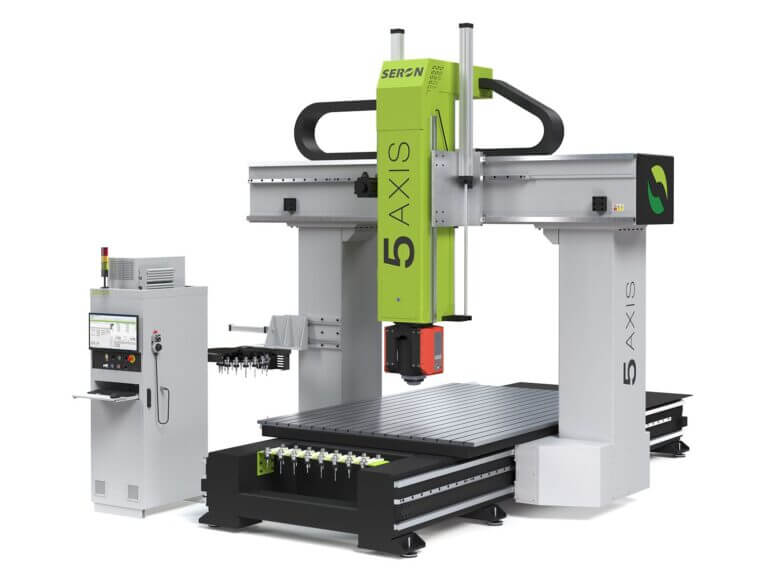 CNC 5-axis machines are advanced machining tools that allow tool movement in five independent axes. In addition to standard X-, Y- and Z-axis movements, 5-axis CNC machines are capable of rotary movements around the A- and B-axes, providing greater freedom and precision during machining.
With five axes of motion, 5-axis CNC machines allow cutting from different angles and positions, which is especially useful for machining hard-to-reach areas and making complex shapes. These machines allow to perform milling, drilling, threading and other machining operations with high precision and efficiency
Maximum processing dimensions: 2000 x 3000 x 1000 mm.
Table size: 2100 x 3100mm
Range in Z axis: 1000 mm
Spindle speed: 24,000 rpm
Spindle motor power: 13.5 kW
Tool storage capacity: 34 pieces
Worked materials:
A wide range of plastics: polycarbonate, PVC, Plexiglas, Teflon, polyamides, gambit, rubber, etc.
Solid wood and wood-based boards: plywood, particleboard, MDF, OSB, etc.
Soft and non-ferrous metals: brass, copper, bronze, aluminum
Paper, cardboard, foil, etc.
Foams, extruded materials, etc.
And many other materials
Seron's 5 Axis CNC Studio offers high precision, dynamic operation and speed. Used in the automotive industry, aerospace industry and in the production of models, molds for thermoforming, lamination, casting, sculptures and 3D parts. Thanks to its robust and ergonomic design, it enables processing of large dimensions with repeatability and highest precision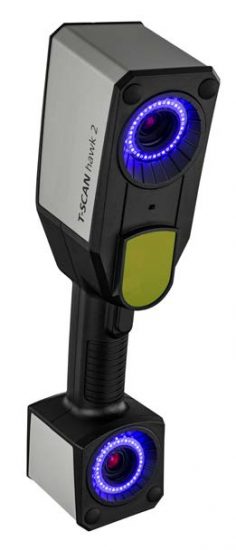 ZEISS T-SCAN Hawk 2 3D Scanner
The advanced 3D scanner T-Scan Hawk 2, developed by ZEISS, is a handheld, lightweight device that features simple operation. Its mobility makes it applicable to a variety of sectors and situations, such as quality monitoring, construction mapping, maintenance, and repair.
Spatial accuracy 0.02mm + 0.015mm/m (2)
Certified (DAkks / ILAC)
Service:
3D inspection of dents, corrosion and damage
3D scanning and remanufacturing of older parts
Indoor and outdoor operation in harsh industrial environments
Monitoring consumption
Reverse engineering:
From real model to CAD
Archiving of tools and objects of cultural property
From small details to very large parts
Quality Control:
Comparison of current data with CAD
Functional sizing
Inspection at production
Design:
Digitization of complex shapes and physical objects
Design modification
Interior design
3D visualization
Thanks to its advanced technology, the T-Scan Hawk 2 is capable of providing precise measurement data at any time and anywhere. The scanner works effectively even in restricted areas or on surfaces with different textures and colors, offering the highest quality 3D measurement data.
T-Scan Hawk 2 is an indispensable tool in various industries, such as automotive, marine and rail transportation, aviation, energy, or mold and machine manufacturing.
Printers with LSS technology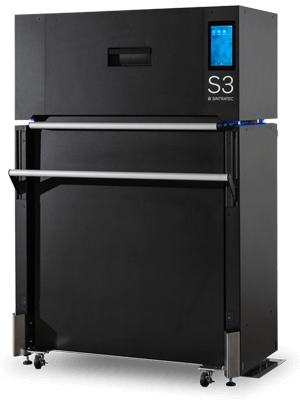 Laser Sintering Station (LSS) Sintratec S3
Laser Sintering Station (LSS) is a technology used in 3D printers that use selective laser sintering (SLS, Selective Laser Sintering). In this method, a fine polymer (or metal) powder is fused layer by layer using a laser to create a three-dimensional object.
Laser spot diameter: 145μm
Layer thickness: 0.1 mm
Laser power: 30W
Working chamber height: 400mm
Working chamber diameter: 220mm
Capacity: 15.2 l
Materials:
Nylon PA12
Nylon with glass fiber PA12 GF
TPE
The Sintratec S3 printer uses a 30-watt fiber laser, allowing it to create objects accurately and quickly. The printer also has integrated features like multi-zone heating and repetitive powder layer coating, which ensures high reliability of the printing process and high print accuracy.
Printers with sLA technology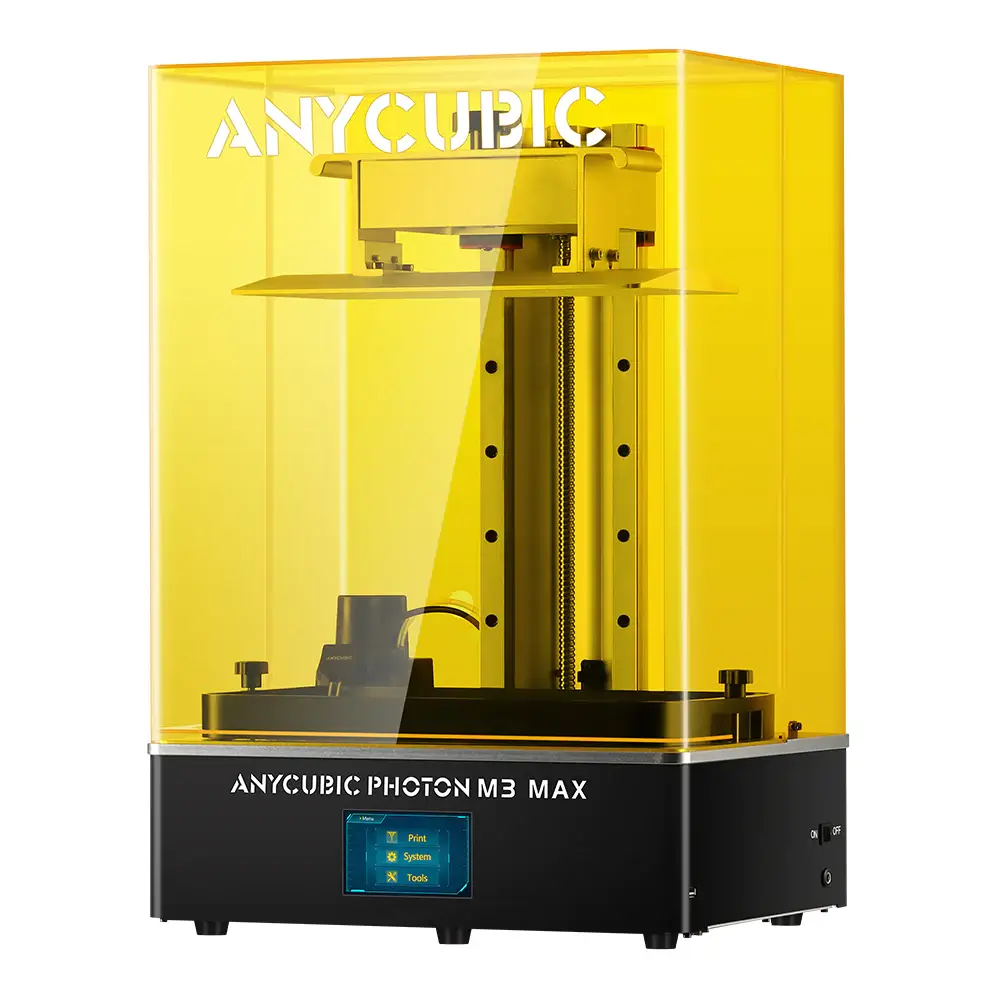 3D Anycubic Photon M3 Max
SLA (stereolithography) technology is a 3D printing method that involves curing a liquid resin using UV light, guided by mirrored galvanometers. The object is created layer by layer until a full 3D model is obtained.
Print size: 300 x 298 x 164 mm
Printing precision: 6,480 x 3,600 pixels (7K
Advantages of SLA technology:
High accuracy: SLA is known for producing highly accurate and detailed models, to within a few micrometers. This is ideal for precision applications such as prototyping, dentistry, biomedicine, etc.

Smooth surfaces: Compared to other 3D printing technologies such as FDM, SLA models have very smooth surfaces, making them ideal for producing highly finished parts.

Complex geometries: SLA allows for the printing of complex geometries that may be difficult or impossible with other 3D printing technologies.
Materials used in SLA technology:
SLA technology uses photopolymer resins that cure under UV light. These resins are available in different varieties, depending on the required end use. Some resins are designed to be rigid and resistant to high temperatures, while others may be flexible or designed for biomedical applications.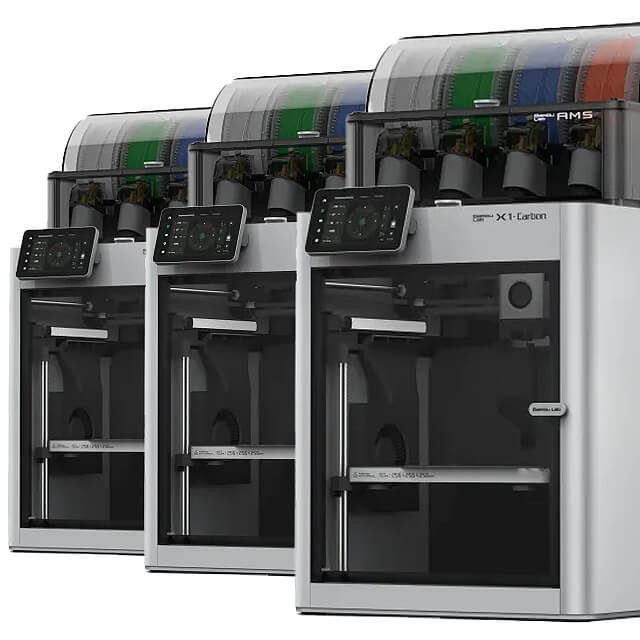 We have a range of printers using FDM technology
Fused Deposition Modeling (FDM) technology, also known as FFF (Fused Filament Fabrication), is one of the most popular and accessible 3D printing technologies. The FDM process involves gradually printing an object by applying layers of melted plastic filament.
FDM-based 3D printing is generally less expensive than those using technologies such as SLA or SLS. Material (filament) costs are also relatively low, making FDM an attractive choice for hobbyists and small businesses.
Advantages of FDM technology:
Low cost: Both printers and filaments are relatively inexpensive, making FDM technology accessible to a wide range of users.

Multiple materials: FDM allows you to print from a wide range of thermoplastic materials, allowing you to tailor the properties of the printed object to your specific needs.
Materials:
PLA (Poly-Lactic Acid): PLA has a glass transition temperature of about 60-65°C and a tensile strength of about 7250 psi.

ABS (acrylonitrile butadiene styrene): This material is characterized by high rigidity and durability.

PET (Polyethylene terephthalate): This is a material that is tough, resistant to impact and moisture, and can be food safe.

PETG (Polyethylene Terephthalate Glycol): This is a variant of PET that is stronger and more durable, shows resistance to heat, stress and moisture, but softens at about 80°C and is sensitive to UV light.

TPU (Thermoplastic Polyurethane): This is a material with rubber-like properties that is durable and abrasion-resistant.